HMS WIZARD R72 to D72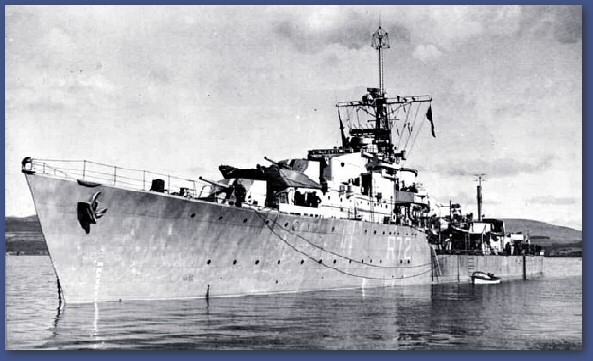 HMS Wizard (R72 later D72). She was the fifth ship so named.
She was adopted by the Borough of Wood Green, Middlesex (now north London) after the Warship Week National Savings Campaign in March 1942. Ordered on 3rd. Dec 1941, she was laid down 14th. Sep 1942 as Yard No. 833 at Vickers-Armstrong in Barrow, launched 29th. Sep. 1943 and completed on 30th. March 1944. After trials, while in the North Western Approaches, she suffered major structural damage from an explosion of her own depth charges on 9th. June 1944; six members of the ship's company died the following day and are buried in the Royal Naval Cemetery at Lyness, Orkney. The ship and was repaired first in Lyness, then in Middlesbrough from late June 1944, when she paid off although assigned nominally to the 27 th Destroyer Flotilla. However, her repairs took until April 1945 when she was re-commissioned and prepared for service in the Pacific, arriving in Sydney in August 1945 to join the Flotilla. The name has no battle honours. After the war she remained in commission at Plymouth. She was converted to a frigate in 1954 (pennant number F72), was at Suez in 1956 and for her last three years of service, from 1963 to 1966, she was part of the Dartmouth Training Squadron. She was placed in reserve in 1966 before being placed on the disposal list and sold for breaking up on 1967
The above is an extract of the yet to be posted essay on the "W Class " by Lester May

In Memorium
Lynes Royal Navy Cemetery at Orkney, showing the graves of the six members of the crew who died.
Leading Seaman John Eckersley D/SSX 22367 – HMS Wizard 10 June 1944, age 24
Able Seaman Denis Cowie D/JX 398433 – HMS Wizard 10 June 1944
Able Seaman William Hoare D/JX 305322 – HMS Wizard 10 June 1944, age 21
Able Seaman William Houghton D/JX 303059 – HMS Wizard 10 June 1944
Able Seaman John Symons D/BD/X 1749 (RNVR) – HMS Wizard 10 June 1944, age 25
Ordnance Mechanic 4 th class Robert Lawrence D/MX 102857 – HMS Wizard 10 June 1944, age 21
Click for link to further information on Scapa Flow .
She was then dispatched to the British Pacific Fleet and entered Sydney Harbour on the 15th of August, the day Victory in the Pacific was declared. She then sailed into Tokyo Bay as the Japanese surrendered.
Click here for list of Allied Ships involved
She helped ferry allied POWs to hospital ships and after a short tour of duty at Wellington New Zealand, and Melbourne Australia, she returned to the UK carrying 169 gold bars that had been lodged in Australia for safekeeping.
She was then in the UK ,Plymouth command until her conversion to a "Type 15" Frigate
After a long and varied career she was scrapped at Inverkeithing Scotland in March 1967.

For Pictures click above