It's Christmas Eve 2007 and it was a little over 62 years ago that the paths of my father, Holger Larsen Holm and that of the British destroyer H.M.S. Wizard crossed paths.
Holger Larsen Holm was born in October 1916 to Peter Holm and Karoline Swensen Holm. Peter and Karoline immigrated to Iowa from Denmark in the early part of the 20th Century and purchased an 80 acre farm in northeast Grundy County, Iowa which is about 3 miles southwest of New Hartford.
Peter and Karoline were always known as Bestefa and Bestamor to me (Grandpa and Grandma in Dane). There children were Martin, Mary, Carl, Peter, Eva and my father, Holger.
In early 1941 my father enlisted in the United States Army. He traveled to Fort Des Moines for his physical and thought he would be home for a little while waiting to ship out. Instead, with no chance to say good-bye he was placed on a troop train and was on his way to San Francisco where he boarded the S.S. Republic and sailed for the Philippine Islands

Holger (aka Dad) took his basic training in the Philippines and was assigned to Battery C (Chicago) of the 60th Coast Artillery and was duty stationed on Morrison Hill on Corregidor Island. It was an island paradise until the Japanese attacked Pearl Harbour on December 7 1941.(Dad always said it was December 8 where he was at!)
The war came quickly to the Philippines and to Corregidor with the Bataan Peninsula surrendering in early April 1942 and Corregidor surrendering in early May. Dad spent time in Japanese prisoner-of-war camps at Cabanatuan, Bilibid and Palawan in the Philippines and in 1944 was put aboard the Hell Ship Canadian Inventor and sailed for Mogi, Japan. From there Dad was sent to Nagoya Camp No. 3 at Funatsu, Japan where he spent the remainder of the war as a slave labourer in a Japanese zinc mine.
With the warís end in August of 1945 the camp was liberated (in early September)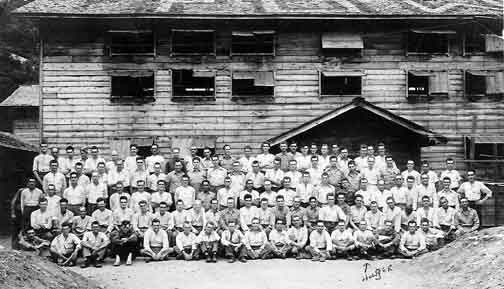 Survivors and the prisoners were taken by train to Nagoya harbour on the east coast of Japan. After a brief physical the now ex-prisoners (about half Americans and the other half British and Australians) were issued new clothing, placed aboard a U.S. Navy barge and taken out into Nagoya harbour where Dadís path crossed with that of the H.M.S. Wizard.
The Wizard had been charged with transporting the ex-prisoners to Tokyo. The ex-P.O.W.ís were taken aboard the Wizard and were immediately told to strip and throw their new clothes into the harbour. Lice! Dad was very unhappy with losing his new clothes. After delousing the men were issued a new set of clothes (extra clothing given to them by the crew of the Wizard). They were then taken below to the mess. Dad said they started eating breakfast at 0930 and 12 hours later they were still eating breakfast with many getting quite ill from the overindulgence After sailing to Tokyo the prisoners were taken ashore and Dadís trip home via Guam began. Imagine the joy of the family back home as the first word they received of Dadís survival of the war came with a phone call to his brother Martin when he docked in San Francisco.

Several years ago I was surfing the web and found a website built by Roger Mansell which was a compilation of information about all of the Japanese P.O.W. camps. Nagoya Camp No. 3 at Funatsu was listed but that was it.. I e-mailed Roger to tell him that I enjoyed his site but was disappointed that there was no information posted about Funatsu. Roger promptly replied and I soon was e-mailing what information I had to him And soon my path would cross with H.M.S. Wizard. A couple of years after the information I had provided to Roger was posted on the web I received an e-mail from Great Britain. A member of the H.M.S. Wizard reunion society had seen the website, contacted Roger to get my e-mail address, and had printed copies of the website and had shown them at a reunion meeting. He wanted my address because a lady from Wales wanted to correspond with me and did not have the Internet.

Shortly I received a letter from this lady from Wales and so I now gained a friend. Adeline Medfordís husband had been a crewman on the Wizard and this initial contact has made us pen pals and we have written back and forth many times over the past five or six years.

When my wife and I started our new wine making and beer brewing supplies store in 2004 I soon started developing beer recipes for homebrew ingredients kits that I sell. I began naming a few of them in honour of my Dadís war experiences with the first being Morrison Hill Pale Ale (a clone of Sierra Nevada Pale Ale) and when I started looking for a name for the second home brew ingredients kit I looked to Adeline and the Wizard reunion society. The second brewing ingredients kit was named by the Wizard group as HMS Wizard Magic Circle Mild Ale. Adeline forwarded to me a blazer patch and when she informed me that she had read my letter to the reunion society that a beer had been named in their honour and that I was going to ship the ingredients to Britain so all could have a beer on me she said that it was moved and seconded and I was unanimously voted in as an honorary member of the H.M.S. Wizard Society. She also said that my being honoured so probably had more to do with free beer than with the service of my father or her husband! Thanks, Ady!

I hope that you have enjoyed reading this brief account of the crossing of paths of an Iowa farm boy turned American soldier and that of the Royal Navy destroyer H.M.S. Wizard. My understanding is that the beer was enjoyed by those in attendance at the last reunion meeting.


For more information on Cabantauan Japanese Camp